The Waiting Room Gallery will no longer curate art at its Larimer Street space in Denver's River North neighborhood after someone stole eight pieces of artwork totaling more than $27,000 from the gallery in late February.
Curator Dan Drossman has been running the gallery himself since opening in April, but he said it's gotten to be too much for just one person. He said the theft took a greater toll on him personally than expected, and he also wants to continue doing his own art.
The goal of the gallery was to enlighten and activate common spaces, as it displayed art across two floors in large hallway corridors between several professional offices.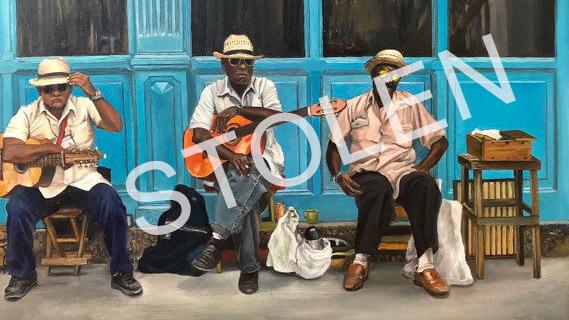 Two of the stolen pieces were Drossman's, and four were paintings artist Jill Alexander worked on as she cared for her mother who had leukemia. These pieces were hung in her mother's room, where they stayed after she died, holding strong sentimental value for Alexander.
"All of them are valuable pieces in one way or the other," Drossman said. "It honestly wasn't anything I ever thought would happen. Maybe a piece got damaged or one piece was snagged or something, but this is a whole floor of artwork."
The pieces were not covered by insurance, and Drossman started a GoFundMe page in hopes of getting back some of what was lost.
Drossman said the detective assigned to the case has been out of town for two weeks and will continue the investigation upon return. Drossman asked folks to keep their eyes open online for these pieces potentially being sold and to reach out if they might have any information.
Drossman said he is hopeful that at some point he might be able to bring the gallery back, but in the meantime he will continue working on his own art.