PARK COUNTY • They call it singing. They being the people who spend their days around one of the biggest sheets of ice found in the mountains between Colorado Springs and Denver.
The groaning, creaking, booming — that's the ice singing, they say.
"A lot of people find if very creepy, but it's actually the formation of new ice underneath you," says Darcy Mount, manager of Eleven Mile State Park. "People I know find it very calming."
People like Ranger Kelli.
That's how Kelli Lewis is simply known. Ranger Kelli has become a name synonymous with a peculiar way of patrolling.
This morning, she's all smiles on the shore of the frozen reservoir as she laces up her skates.
"These are my burners," she says.
Off she goes, gliding out on the crystal-clear cap spanning 3,400-plus acres and spotted by tents of anglers. Off she goes to greet them, red hair flying against the blue backdrop.
Eleven Mile is one of the Front Range's most popular destinations for ice fishing. In the past couple of winters, regulars have gotten to know a very different kind of ranger.
Some squint, confused by the slight figure fast approaching from a distance.
"She's a tiny little thing," Mount says. "When she's all bundled up, people don't realize she's a ranger until she's right up on them. We've had people say, 'I thought that was a little girl ice skating.' Then she shows up with a badge and duty belt."
Lewis will ask for a fishing license, please, followed by the next common question: "Any luck?" She often spreads helpful tips around the lake, watching her subjects' initial confusion turn to pleasant surprise.
Previously, "we would go park our cars, gear up, walk out on the ice and talk to the fishermen, and then get back in our car and move to the next location," Mount says. "It really wears you out."
Along came Lewis with a particular skill.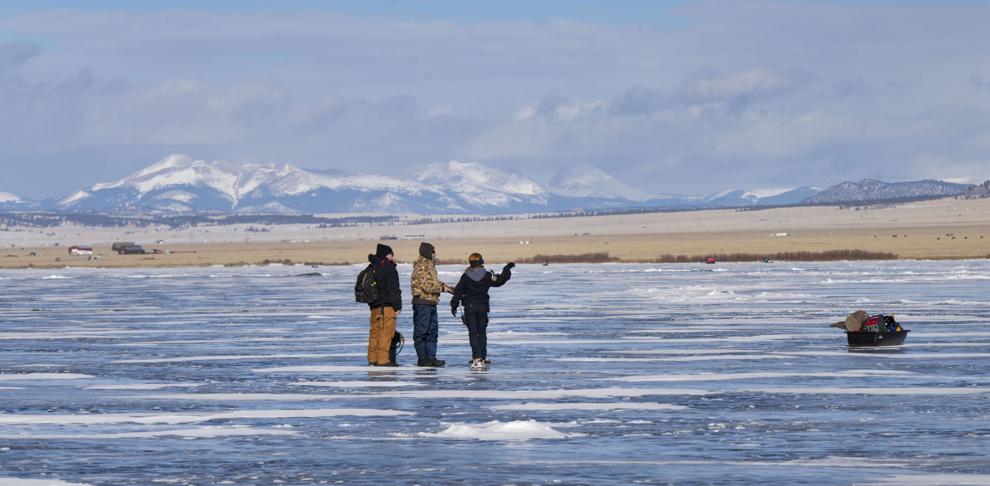 "She covers a lot of ground, way more than we ever could walking," Mount says. "It's definitely a unique strategy."
And it's caught the attention of people far away from the park.
"I want to be Ranger Kelli when I grow up," read one reaction to a Colorado Parks and Wildlife tweet last year introducing another day on the job.
"#coloradolife," read another.
And another: "Give her a stick and puck!"
Which she would happily receive.
Growing up in the Vail Valley, it was competitive hockey that developed her proficiency on skates. She went on to Durango's Fort Lewis College to major in environmental studies. The dream of playing for her beloved Avalanche was long gone, replaced by a mission to contribute in some way to her beloved outdoors.
"I always wanted to find a way to help protect Colorado," Lewis says. "It's offered me an amazing lifestyle, and as we see more and more people coming to the state, I'd love to see that lifestyle offered for people into the future."
She saw an ad to be a park ranger, "and something told me that was my calling," she says.
She laid eyes on her remote post at Eleven Mile, "and the resource spoke for itself," she says. "Nothing but miles of ice."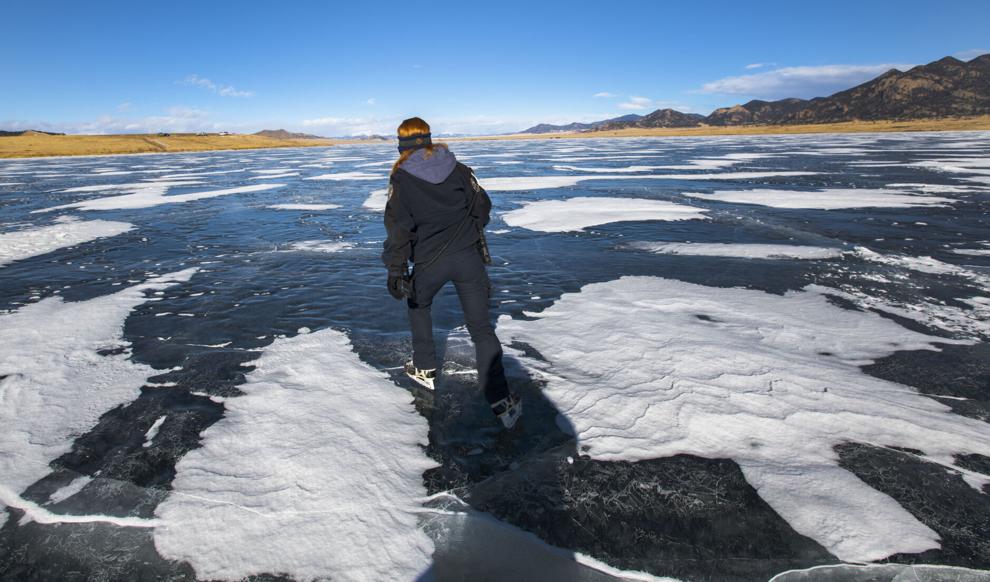 On the skates, she's gotten to know the nooks and crannies of the resource — the shorelines, coves and rocky islands between the Dream Stream on one end, the craggy mouth of the canyon on the other. She's gotten to know the shallows where some seek pike and the depths where salmon lurk.
And she's gotten to know the perils.
"It's a different world out here," Lewis says.
The reservoir finds itself in an immense, upland plateau considered the geographic heart of Colorado. In the winter, temperatures notoriously fluctuate while winds blow fierce. Those elements have morphed the ice in such a way to create this season's strange, threatening phenomenon.
In her four years as boss here, Mount says she's never seen this size and scale of pressure ridges on the ice. Those are the jagged spines jutting from the surface.
"It might be 14 inches of ice on one side, and you step over a pressure ridge and it's 2 inches," Mount says.
It adds another dimension of ice safety that Lewis preaches on her patrols. When she stops by tents, she only hopes that anglers are equipped with drills for measuring thickness, life jackets and tools for pulling oneself out of the ice in case of a fall.
"I am surprised by a lack of that understanding," she says. "I think there's a lot of confidence when folks have done something many times before. I've talked to people who've admitted they've been humbled by walking through the ice."
She's been humbled, too. While skating, the ice can be like "an obstacle course," she says — the bumps and rough snow patches less than ideal.
But when she's out there gliding, when the only sound is the ice singing like a symphony, she says there's nothing like it.
"There's nothing as free as skating miles on ice," she says.