As war returns to Ukraine, a peaceful City of Denver park memorializes World War II carnage there more than 80 years ago.
Babi Yar Park, an urban oasis tucked near the busy intersection of Parker Road and Havana Street, testifies to war atrocities and to art — the darkest and brightest human extremes
Dedicated in 1983, Babi Yar Park takes its name from an infamous Ukrainian ravine near Kyiv — 5,664 miles away. Babi Yar ravine became known as "the valley of death" after the German Nazis massacred 33,771 Jewish men, women and children on Sept. 29 to 30, 1941. Nazis rounded up the Jews of then-Kiev, robbed them of their belongings, forced them to strip naked, shot them with machine guns and buried their corpses in a mass grave.
Genocide at Babi Yar continued over two years of German occupation until 1943, the death toll surpassing 200,000 Jews, Ukrainians, Roma and other ethnic groups, along with homosexuals, prisoners of war, and Orthodox Christian priests.
The dark events came to light in 1961, when Yevgeni Yevtushenko, a prominent poet of the Soviet era, wrote a poem titled "Babi Yar." The poem inspired Dmitri Shostakovich to compose a symphony about Babi Yar that further raised public awareness.
Meanwhile in Denver in the mid-'60s, the Concerned Committee for Russian Jewry formed to support freedom for Jews to emigrate from the USSR. The committee approached Mayor William H. McNichols, Jr. to designate a Denver location as a namesake of Babi Yar. In 1969, McNichols granted 27 acres on Denver's eastern border to create "a place that would demonstrate a unified public protest."
Helen Ginsburg, a bronze sculptor, and Alan Golin Gass, an architect, played major roles in establishing Babi Yar Park. Together with other community leaders, Jews and non-Jews, they created an artful environment. The city park remembers victims of the Babi Yar slaughter and inspires visitors to embrace peace, serenity, tolerance. Ginsburg, 87, and Gass, 90, remain involved with the park.
"The Ukraine has been so much on my mind since I heard the Russians had surrounded Kiev," said Ginsburg, the founding president of the Babi Yar Park Foundation. "I thought, 'Oh, my God, it will be Babi Yar again.' And I hope it won't get that bad, but mankind can be so brutal — no better than animals."
Ginsburg emphasized that Babi Yar Park stands for peace for all people.
"This park is a place of beauty intentionally created without any more symbolism about Judaism other than what's on the monoliths at the entrance," she said. "I was insistent that this park speak to all people because if this can happen to one group of people, it can happen to any group of people."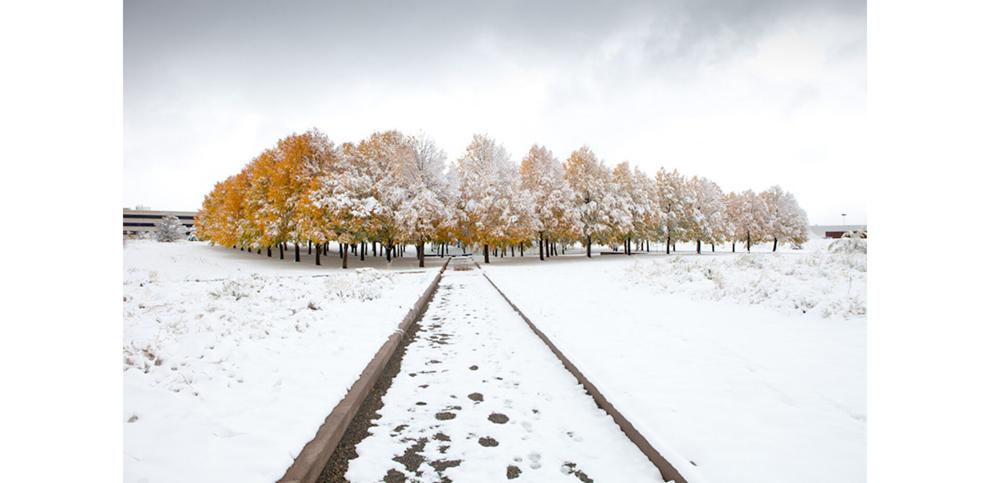 In her mid-30s, Ginsburg's mother's friend, Lillian Hoffman, and her rabbi urged her to lead the budding Babi Yar Park project. Ginsburg assumed the Babi Yar Park mantle as her life's mission. When fundraising fell short, she even traveled to the White House to meet with President Jimmy Carter to secure federal funds.
Ginsburg quickly recruited Gass, a fourth-generation Denverite and a Harvard-trained architect and urban designer.
"We quickly realized that a single monument would not serve a 27-acre site, so we decided to make the whole park a sculpture," said Gass.
Gass had a connection to an internationally famous San Francisco-based landscape architect: Lawrence Halprin (1916 — 2009). Halprin assigned the project to his protégé and eventual partner, Satoru Nishita (July 4, 1927 — July 16, 2013), who had designed Denver's Skyline Park.
"Sat — that was his nickname — really was a sculptor, and Babi Yar is experienced as a sculptural park," said Tina Bishop. Bishop — principal of Mundus Bishop, a Denver-based landscape architecture firm — oversaw Babi Yar Park upgrades completed in 2012.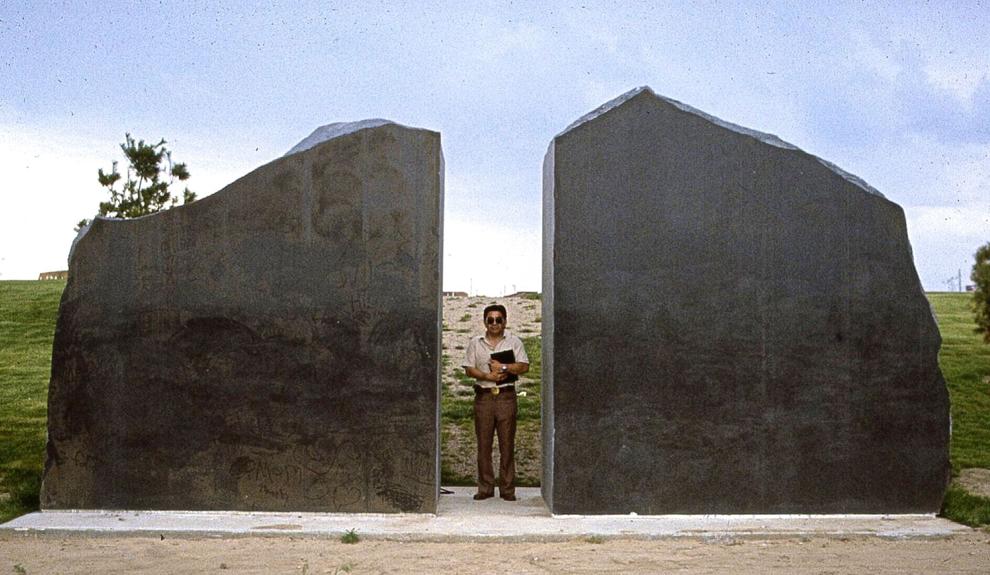 Ginsburg said, "The reason Satoru Nishita wanted to do this job was because of the Japanese-Americans interred in camps. Sat said, 'I know what this is about. I can feel the need for people to know about Babi Yar.'"
Ginsburg recalled when Nishita excitedly informed her of an unintentional yet profoundly appropriate shape made when he connected the park's walkways between landscape features.
Ginsburg said, "I remember Sat's call from San Francisco. I knew something had happened. I could hear it in his voice. The first thing he said was, 'I didn't plan it that way!' And then he told me that when he connected the park's paths, they described a Star of David. I'll never forget that."
Since opening 40 years ago, Babi Yar Park has kept a low profile.
"It's the least known of any city park," Ginsburg said.
From the heavily trafficked intersection where a dozen lanes of traffic whistle past, the park reads as undeveloped land. Bishop, who specializes in sustainable landscapes, noted that Babi Yar Park preserves rare native shortgrass prairie.
"It was grazed, but never farmed," she said. When her firm renovated the park, disturbing the soil allowed native plants to self-seed throughout the mostly xeric landscape.
No colorful flower beds adorn Babi Yar Park. No playgrounds or sports fields or picnic tables draw crowds. For Bishop, who serves on the board of the Cultural Landscapes Foundation, the predominant mood of Babi Yar Park is reverence. The park serves as a pseudo cemetery and also as an impetus.
"It's a refuge," Bishop said. "It's a way of a way of commemorating those murdered at the Babi Yar ravine, but also a call to action to make sure that type of violence doesn't happen again."
Babi Yar Park invites visitors on a journey through a sophisticated, austere landscape. Black granite monoliths are inscribed with poetic messages written by Rabbi Raymond Zwerin. The People's Place amphitheater features perfect acoustics. And in the amphitheater platform's center, beneath an inscribed metal marker, park designers buried a capsule of earth collected from the Babi Yar ravine in Ukraine.
"I think of it as the ashes of my people," said Ginsburg.
OPTIONAL TRIM FOR CUTLINES
In Denver's Babi Yar Park Forest of Remembrance, 100 linden trees in a grid shade a simple black granite fountain and a curved black granite bench. A narrow bridge with high wooden walls black-painted is a sinister reminder of railroad cars used to transport Jews to concentration camps. The bridge spans the ravine that recalls Babi Yar, Ukraine. Upon exiting the boxcar bridge, visitors can see their own reflections on highly polished vertical stripes on black granite monoliths.
END OPTIONAL TRIM
At the entrance to Denver's Babi Yar Park, with the push of a button The Speaking Stone offers a brief audio overview. The booming voice is that of James Buchanan III, a Denver attorney and longtime board member of the Babi Yar Foundation. Buchanan penned the letter that landed Ginsburg's meeting with President Carter.
Now an Alzheimer's patient, Buchanan's younger voice robustly proclaims, "The message of Babi Yar Park is not alone of Jewish rights, but of human rights. The tragedy that befell, Jews, Ukrainians and others at Babi Yar teaches us a universal principle: When one group of people is harmed as others remain silent and indifferent, all humankind suffers. This Babi Yar is a reminder of that other Babi Yar. That was a place of cruelty and death. This is place for quiet contemplation, to celebrate life, aspiring to the best that is within the human spirit, a place to pray for an end for all inhuman acts in our time."