Earlier this month, Colorado's Supreme Court justices appeared less than enthusiastic about adopting a proposal that aims to curb lawyers' ability to remove people of color from criminal juries for reasons related to their race.
During a nearly three-hour hearing, prosecutors from across the state uniformly lined up to condemn the suggested change, with some alleging it amounts to "affirmative action" for juries. Meanwhile, defense attorneys, trial judges and the NAACP — those who spoke were Black, Latino, Asian, as well as white — urged the justices to take action to halt more subtle forms of racial bias in the justice system.
In response, some members of the court bristled at the push to enshrine the proposed implicit bias protections into its procedural rules.
"We've already been called racist for not immediately adopting these rules," said Justice Melissa Hart. "And I'm not happy about it. I'm really uncomfortable with some of these changes." 
For more than 35 years, the U.S. Supreme Court has recognized that intentional race-based discrimination in jury selection is unconstitutional. Following the court's 1986 decision in Batson v. Kentucky, in which state prosecutors removed all of the Black people from a Black defendant's jury, judges now must evaluate whether a lawyer has provided a "race-neutral" reason for excusing, or striking, a juror of color when one of the parties raises a "Batson challenge."
In contrast to for-cause strikes, which occur when a juror cannot be fair and unbiased, Batson challenges arise through the use of a mechanism called peremptory strikes. Typically, parties to a case do not need to provide a reason when removing a juror with a peremptory strike during jury selection. In the face of a Batson challenge, they do.
But when an attorney, usually for the defense, raises a Batson challenge, judges may nonetheless allow prosecutors to remove a juror of color for reasons that may correlate with race — like having poor experiences with police — yet are race-neutral on the surface.
Denver County Court Judge Olympia Z. Fay, who testified to the Supreme Court in favor of the rule change, estimated she has presided over 100 jury trials and ruled on a half-dozen Batson challenges. Under Batson's existing standard, Fay said prosecutors have been able to cite race-neutral reasons when asked to justify their action.
"But the effect of it is to get that juror of color kicked off the jury," she said.
Multiple attempts at addressing bias
The proposal to change procedural Rule 24 would expand on the existing constitutional prohibition against intentional discrimination and build new safeguards for less obvious race-motivated strikes.
As presented, the rule contains multiple reasons that are presumed to be invalid for striking jurors of color. Those include a juror's stated distrust of law enforcement or belief that police engage in racial profiling, as well as living in a "high-crime neighborhood" or not being a native English speaker. Demeanor-based reasons, such as a juror failing to make eye contact, would also be invalid without corroboration from other parties in the courtroom.
Instead of Batson's standard of purposeful racial discrimination, the change to Rule 24 would also direct trial judges to examine whether an "objective observer could reasonably view" race as a factor in an attempted juror strike.
"In the last eight or 10 years, there's been some recognition in some of the appellate courts around the country that the purposeful discrimination test of Batson v. Kentucky has not fulfilled its promise, as far as trying to enhance greater participation by racial minorities," testified Court of Appeals Judge John Daniel Dailey, who chairs the criminal rules committee that brought the proposal forward. "So, therefore, they've looked for other ways to consider, and other possible proposals to enhance, the participation of racial minorities."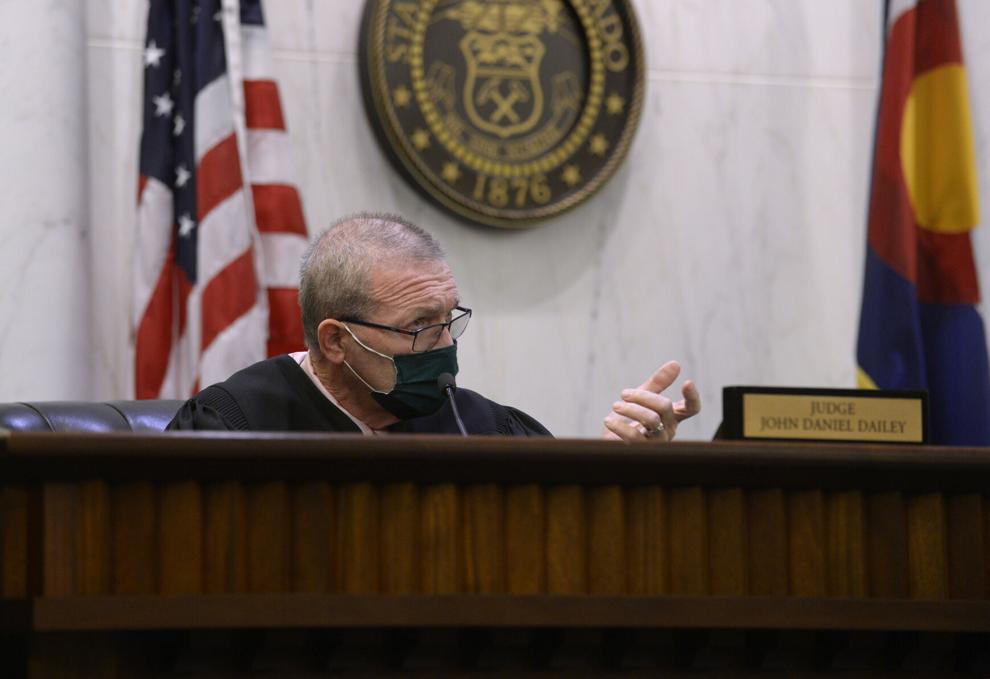 But the prosecutors who testified, all of whom appeared to be white, blasted the implicit bias proposal as one that would slant juries in favor of defendants by ensuring people who distrust police will decide criminal cases.
"The phrase that comes to mind is it's affirmative action in jury selection," said Christian Champagne, the elected district attorney for La Plata, San Juan and Archuleta counties.
"Any prosecutor is naturally gonna be afraid to ever use the strike again" against a person of color, added Johanna Coats of the Denver District Attorney's Office.
"I think that is the goal," interjected Hart.
The Washington Supreme Court became the first state court to adopt an implicit bias rule in 2018, and California followed suit legislatively. Colorado's criminal rules committee attempted to propose a similar rule in 2021, but the Supreme Court declined to consider it, citing a lack of consensus among the committee.
Last year, four Democratic lawmakers introduced legislation resembling the Washington rule, but withdrew the bill in the face of solid opposition from Colorado's 22 elected district attorneys. Instead, they urged the criminal rules committee to try again to enact a Washington-style rule judicially.
The committee subsequently voted, 8-4, to send the Rule 24 changes to the Supreme Court for consideration. Defense lawyers and trial judges on the committee joined together in the majority, while representatives of district attorneys' offices voted against it.
During the public hearing and through written comments, prosecutors lobbed multiple criticisms against the rule change: Getting jurors of color to show up in the first place should be the focus. Better training will address lawyers' bias. Attorneys will find a way to dismiss jurors of color anyway. The proposal is racist itself.
"I thought the courtroom was to be color-blind, not color obsessed," wrote retired Denver District Court Judge Morris B. Hoffman, who added the rule change is "woke window dressing."
'You should not use a peremptory challenge'
Earlier this year, prior to the Rule 24 hearing, the Washington Association of Prosecuting Attorneys sent its counterpart in Colorado, representing the state's district attorneys, a summary of appellate cases so far that have interpreted its own implicit bias guidance, known as General Rule 37.
The analysis from King County prosecutor Kristin Relyea also contained a piece of advice.
"I have no idea what the landscape looks like in Colorado," she noted, "but if it appears that adopting a similar rule has momentum, then I think prosecutors would be best served by joining the movement and drafting a rule that avoids some of the pitfalls and unanswered questions that we've had to sort through."
The Washington Court of Appeals has taken up General Rule 37 cases on multiple occasions, sometimes upholding prosecutors' decisions to strike jurors of color and other times finding jurors were improperly removed — including the sole Black person in a jury pool who expressed skepticism of the justice system based on personal experience and an Asian woman who the defense attorney tried to excuse because she made him "feel uncomfortable."
Some prosecutors in Colorado singled out one decision, State v. Orozco, as problematic. John Kellner, district attorney for the 18th Judicial District in metro Denver, testified the case was emblematic of the "absurd results" of an implicit bias rule.
In Orozco, a trial judge allowed prosecutors to strike the only Black woman from the jury pool after the prosecutor disclosed that he had pursued charges against her previously for minor offenses. The Washington Court of Appeals overturned the defendant's murder conviction after determining the strike violated General Rule 37.
Colorado prosecutors who commented to the Supreme Court claimed the decision meant the government cannot remove a juror even if they had personally been prosecuted by one of the lawyers in the courtroom. In reality, that was not why the defendant's convictions were overturned.
It was only because the prosecutor had elaborated that the Black juror was allegedly associated with people involved in criminal activity — a presumptively-invalid reason under the implicit bias rule — that the appellate court issued its reversal.
"In my personal opinion," Relyea wrote to her Colorado counterparts, "the takeaway is that you should not use a peremptory challenge to strike a BIPOC (Black, Indigenous, person of color) juror because there is a strong likelihood that your case will be reversed on appeal."
More data needed?
Some members of the Supreme Court noted a lack of data documenting the frequency of juror strikes against people of color. Instead, there was only anecdotal information from the legal community in Washington and Colorado. Justice William W. Hood III suggested those experiences may be enough to justify the implicit bias proposal.
"I think all of the trial judges (on the rules committee) who have collectively presided over hundreds of trials, to a one, thought this rule change made sense," he mused.
But when it comes to data collection, Hart countered, "would one good first step be for us to do that? To try to figure out where is the problem before we come up with a solution?"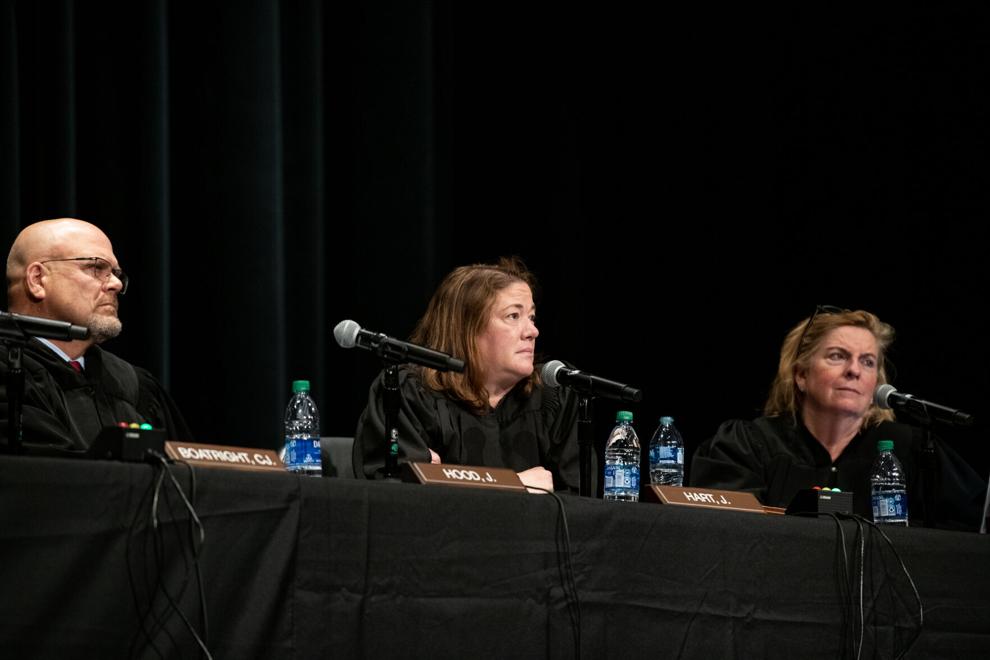 "For communities of color, we're always waiting for studies and for somebody to find out something in order to support the anecdotal evidence that we know exists," responded Joyce Akhahenda, a public defender and representative of the Sam Cary Bar Association, a professional group for Black attorneys. "That was the same issue with police brutality cases until we had video cameras."
In recent years, Colorado Politics has reported on multiple criminal appeals involving the dismissal of jurors of color, in which prosecutors' race-neutral reasons could have faltered under the proposed standard:
• An Arapahoe County prosecutor struck a Hispanic woman who talked about racial profiling in law enforcement. 
• An El Paso County prosecutor struck a Black woman for the "sour look on her face."
• An Arapahoe County prosecutor struck a Black woman for "often staring up above, staring not at the ceiling but off into the distance."
• Weld County prosecutors struck the only Hispanic man because he "appeared very disinterested."
• Adams County and El Paso County prosecutors struck the only Hispanic person and the only Black man, respectively, based on incorrect claims of what the jurors actually said.
• An Arapahoe County prosecutor struck three Black jurors in a row from a Black defendant's trial, including one who had negative experiences with police.
• Weld County prosecutors struck a Hispanic man for his poor experience with police and a Hispanic woman because she "didn't seem fully engaged."
• An El Paso County prosecutor struck a Black juror who had negative experiences with law enforcement.
A 'blatant example of bias'
Some of the most concrete testimony about the effect of the rule change came from trial judges.
Fay, of the Denver County Court, said she sees prosecutors offer reasons for striking jurors of color that the new procedures would strongly discourage. Fay indicated jurors generally do not state explicitly they will be unfair to police officer witnesses.
"It's much more subtle than that. It's 'the police officers are in my neighborhood.' 'When I see them, they're behaving a certain way and I'm not sure I can always believe them when they say something,'" she said.
Judge Chelsea Malone, also of the Denver County Court, told the story of a prosecutor who struck a Hispanic man from a jury pool without questioning or talking to him. The prosecutor explained their colleagues had looked up the juror and found he had a criminal history. Malone asked if the prosecutor had done the same with any of the other jurors. "No" was the response.
"I haven't seen a more blatant example of implicit bias in jury selection," she said.
Members of the Supreme Court were most hesitant about two specific elements of the proposal: allowing trial judges to decide if an observer simply "could" view race as a factor and making the distrust of law enforcement an invalid reason to excuse a juror, without more.
"A juror who expresses great trust in law enforcement could readily be excused on a peremptory by the defense," said Justice Monica M. Márquez. "That strikes me as an asymmetry that ends up disfavoring the prosecution, favoring the defense."
Defense lawyers and trial judges countered that the prosecution should spend time talking with a juror who is skeptical of police in order to understand whether that viewpoint is intertwined with their race. 
For that to happen, argued Portia Prescott of the NAACP's Colorado Montana Wyoming State Area Conference, jurors of color need to feel comfortable even entering the courthouse. Knowing that there is less of a chance a lawyer will remove them from a jury, she said, could increase the willingness to respond to a juror summons.
"When I'm walking into a room with all white people, there's a feeling that I have to over-qualify myself to just be in the room, standing," Prescott said. "If we're making it easier and safer to respond to it as opposed to saying, 'Well, girl, if you take that day off, I'm sorry, you're gonna get kicked out anyway. So, why lose a whole day's worth of work if you know they're going to kick you out?'"
What about gender, religion or status as crime victim?
Some prosecutors suggested the Rule 24 revisions should encompass bias more broadly, discouraging lawyers from striking jurors based on their gender, sexual orientation or religion. The justices also questioned whether someone's status as a crime victim, which could also correlate with race, should be an additional presumptively-invalid reason for removing them.
Kevin McGreevy, a member of the rules committee who authored the proposal, said one prosecutor had, in fact, made the latter suggestion during deliberations, but eventually withdrew it.
Finally, members of the court repeatedly asked whether abolishing peremptory challenges altogether would be preferable. Many witnesses said yes, but it would require a change to state law.
Still, the trial judges who testified felt as though they could administer the new process for Batson challenges, even if it takes longer to hear jurors explain their points of view.
District Court Judge Vincente G. Vigil of Weld County volunteered that, growing up, he harbored a distrust of law enforcement. But now, during bench trials in which Vigil acts as the jury, he can decide criminal cases fairly when a police officer appears in front of him. He supported adopting the implicit bias rule.
"I don't think it's enough to just talk about it. I don't think it's enough to acknowledge it," Vigil said. "I think we have to take a step forward."