Karl Dorrell was hired 21 months ago, but this offseason will be the first normal one he's had in his entire tenure.
Dorrell was hired in February 2020, which is very late in the process for college football coaches, but Colorado was put into a tough spot when Mel Tucker left for Michigan State earlier that month.
This left Dorrell, who had been working almost exclusively in the NFL since he was fired by UCLA in 2007, without the ability to establish his own staff at CU. Many assistants, including both coordinators, were retained. Then about a month after he was hired, the COVID-19 pandemic took hold of the country and college football was put on hold for months.
The pandemic caused the 2020 season to be shortened to just six games for the Buffs and programs were limited with what they could do with meetings, practices and recruiting in between the 2020 and 2021 seasons.
CU Buffs offensive coordinator Darrin Chiaverini let go after disappointing season
But now he's had a full season under his belt and after a disappointing 4-8 campaign, Dorrell will have the chance to truly make the program his own after letting go of offensive coordinator Darrin Chiaverini after the season ended.
Dorrell fired the defensive coordinator he inherited in Tyson Summers following the 2020 season and promoted from within, elevating Chris Wilson. But this will likely be a hire that will define Dorrell's tenure in Boulder. He's an offensive coach himself and he needs to bring in a coordinator that can quickly get the offense back on track after a historically bad 2021 season.
Here's a look at five potential candidates for the CU offensive coordinator job:
Zach Kittley, Western Kentucky offensive coordinator/quarterbacks coach
If Dorrell wants an up-and-coming offensive mind, his first call should be to Western Kentucky's Zach Kittley.
He's only been calling plays for the Hilltoppers for one season, but the results more than speak for themselves.
Western Kentucky ranked second in the country in yards per game in 2021, trailing only Ohio State, and will play UTSA in the Conference USA Championship Game this weekend.
Kittley brought quarterback Bailey Zappe with him from Houston Baptist and Zappe continued to be one of the top passers in the nation. Zappe averaged over 400 passing yards per game and will almost certainly surpass the 5,000 passing yards mark this weekend. He's also thrown 52 touchdowns in 12 games.
It also doesn't hurt that prior to his time as the offensive coordinator at Houston Baptist, Kittley worked with Patrick Mahomes as the assistant QBs coach at Texas Tech.
Corey Dennis, Ohio State quarterbacks coach
It's never a bad idea to look toward Columbus for bright, young coaches.
It's also never a bad idea to try and hire someone away from the top offense in the country.
Buckeyes QB coach Corey Dennis checks both of those boxes.
Despite losing first round NFL draft pick Justin Fields, the Ohio State offense didn't miss a beat this season with redshirt freshman C.J. Stroud under center.
True freshman, transfers making impact on CU Buffs defense
Dennis has been with Ohio State for the past six seasons, serving as a quality control assistant before being promoted to QBs coach prior to the 2020 season.
Some may argue that it's the 5-star wide receivers that make the Ohio State offense go, not the quarterbacks, but lucky for CU it has some very talented wideouts on campus already in Brenden Rice, Daniel Arias, Montana Lemonious-Criag, Dimitri Stanley, Chase Penry and others.
Dorrell's connections may be better in the NFL, but there are plenty of intriguing options in the college game and Dennis is certainly one of them.
Mick Lombardi, New England Patriots wide receivers coach
If you can't go wrong trying to hire assistant coaches away from Ohio State, the NFL version of that is in New England.
Mick Lombardi is the son of former Browns GM Michael Lombardi and worked with Dorrell on the Jets coaching staff from 2017-18 when Dorrell was coaching the wide receivers and Lombardi was an assistant quarterbacks coach.
He's been in New England for the past three seasons and has helped get the Patriots back on track in the post-Tom Brady era, helping with an offense that has performed very well this season with rookie quarterback Mac Jones under center.
Lombardi is just 33 years old and this would be his first time calling plays at this level, but his connections to Dorrell help.
Pac-12 men's basketball preview capsules: CU Buffs looking up at UCLA, USC as conference play starts
Ike Hilliard, Pittsburgh Steelers wide receivers coach
Staying in the NFL, another assistant coach that has worked with Dorrell in the past and would be an interesting candidate is Ike Hilliard.
The two worked together in Miami in 2011 when Dorrell was the quarterbacks coach and Hilliard was an assistant wide receivers coach.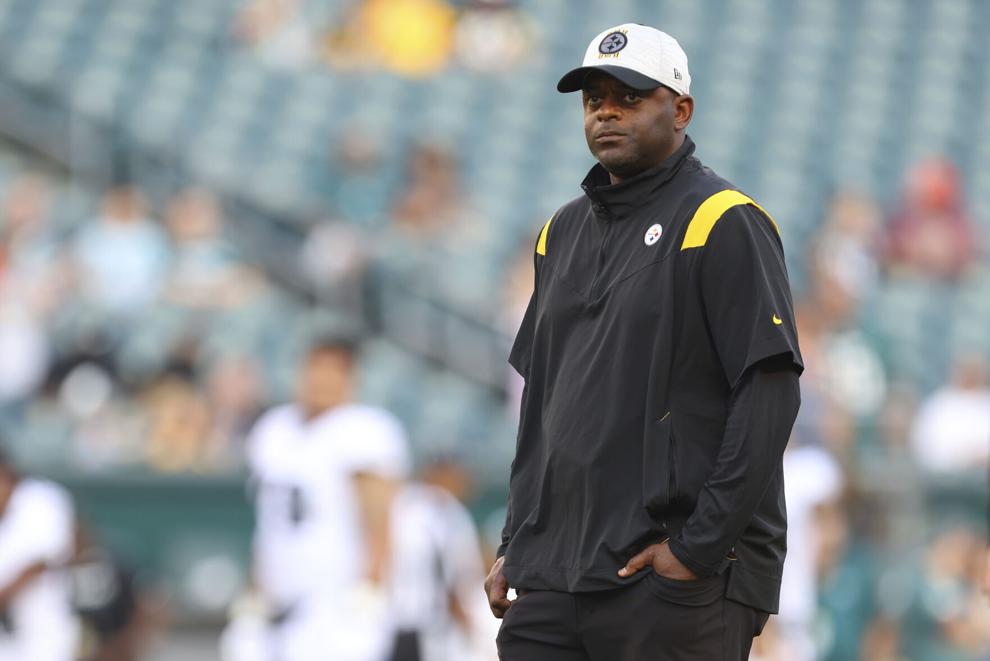 Hilliard is in his second season in Pittsburgh and has helped develop young Steelers wide receivers like Diontae Johnson and Chase Claypool.
He's another candidate that hasn't called plays before, but has a very good track record for developing players and that's something CU also could desperately use.
Brian Lindgren, Oregon State offensive coordinator/quarterback coach
One outside-the-box option for CU is one of the program's former offensive coordinators in Brian Lindgren.
It would be a little bit ironic if Lindgren replaces Chiaverini as the two shared offensive coordinator duties for two seasons before Lindgren left for Corvallis. With the Beavers, Lindgren helped provide one of the more painful memories for Buffs fans in the last five years, helping lead Oregon State to a dramatic, 41-34 comeback win at Folsom Field that saw CU slowly blow a 31-3 lead.
Lindgren has done a solid job building up the Oregon State offense and the Beavers ranked fifth in the Pac-12 in yards per game this past season thanks to a solid run game.
It certainly would be interesting to see Lindgren back in Boulder, but he wouldn't be a bad option for Dorrell if he doesn't hire a rising star in the college level or use his NFL connections.