It was in Ms. Heinlein's Introduction to Information Technology class freshman year at East Lake High School (Tarpon Springs, Fla.) that Jake Hudson convinced Justin Strnad to play football.
Strnad, 15 at the time, was a stud baseball player, hoping to one day be a pitcher in the major leagues. But after a serious injury to his throwing elbow in the fall of his freshman year and some strong encouragement from Hudson — the high school football coach's son — Strnad tried out for the football team that spring.
"He wasn't going to play football at all," said Hudson, who played quarterback at East Lake. "I had heard he was a pretty good athlete. So, every day I just dripped on him — 'Hey man, you should come play football in the spring. Just try it.' Sure enough, he came out in the spring and the rest is history."
It's worked out well for Strnad, who is now in his second year as a Bronco. 
He'll make his first career NFL start Sunday against the Jets, replacing the injured Josey Jewell who is expected to be out for the season. At 25 years old, Strnad doesn't even have three full quarters of NFL experience, missing all of last season with a broken wrist and coming in for Jewell halfway through the second quarter last week.
"I'm just really prepared to help this team in any way possible, whether it be the run game, coverage, or anything," Strnad said Monday. "We have a good thing rolling right now. We're 2-0 and I'm just here to do my job. Whatever the coaches need me to do, I'm here to do it and I think I'm capable of doing all those things."
Despite his lack of playing time, Strnad sounds more than ready.
A fifth-round draft pick in 2020, he's always had tremendous upside and been considered a part of the Broncos' future on defense, after impressing during last year's training camp before his injury. His former coaches are all quick to point out his football IQ, and at 6-foot-3, 238 pounds, he's known for his athletic ability, which has separated him amongst peers most of his life.
"We liked his size and his length," coach Vic Fangio said this week, recalling why the Broncos drafted Strnad. "He could run. He's got good speed for a backer. He was good in coverage in college, which is rare. When I say coverage, I mean some zone awareness and things like that. Most of the linebackers in college are not — you have to teach it to them. We were impressed with him and his ability to possibly be our dime linebacker or jack linebacker."
Strnad has prepared for this opportunity, from being a star running back for the Oldsmar Falcons, to a standout safety for the East Lake Eagles, to a captain for the Wake Forest Demon Deacons, to finally a starting linebacker for the Denver Broncos. And according to those who know him best, Strnad will deliver Sunday and for however long he starts, doing whatever it takes to help his team win.
Just as he's done all his life.
" I know he's going to stick his nose right into the film and he's probably already done it a million times already and he's going to be prepared," said his dad, Shawn. "He's got a super good heart. He just cares about people but flips a switch when he's on the field and becomes the ultimate competitor. I can't tell you how excited I am for him.
"He's not going to waste it."
From 'garbage' to 'bright star'
Strnad is known as "garbs" — short for "garbage."
Yes, that's correct, Strnad's nickname is garbage. It was given to him by his brother, Nick, in middle school. Nick, who is three years older than Strnad, like most older brothers, constantly found ways to get under Strnad's skin.
Surprisingly though, name-calling wasn't something that bothered Strnad. Instead, he used it as motivation, embracing the nickname.
"Justin likes to talk a lot of smack," Nick said. "If he's competing in something, he likes to talk smack. That's just the way he is. Even though he wasn't actually garbage, he was always talking smack to us and so we talked smack back, and that's sort of how it came to be. He loves it. Literally anyone close to him — we all call him 'garbs.' None of us call him Justin."
While the nickname he was given may have been garbage, Strnad was the furthest thing from trash on the football field.
He excelled in football, learning how to play in his backyard in Tarpon Springs, Fla., alongside his brother and neighborhood friends. And when he first began to play at 8 years old, he became a star running back for the Oldsmar Falcons in the Tampa Bay Youth Football League . He and Steelers wide receiver Ray-Ray McCloud were the top players in the league, fighting for who would score the most touchdowns each season.
"He was special at football right off the bat," said Nick, now a high school football coach. "He played in the best little leagues around here in the TBYFL. There's probably close to a dozen guys in the NFL right now who played in that league."
Strnad eventually shifted his focus to baseball. And if it weren't for his injury , he likely would have had the opportunity to play at the collegiate level.
But when Strnad stepped back on the football field that spring, it was clear he had the skills to be a special player.
"I remember showing up to the first game and thinking, 'Holy s---, we've got something here,'" his dad said. "He was just murdering people."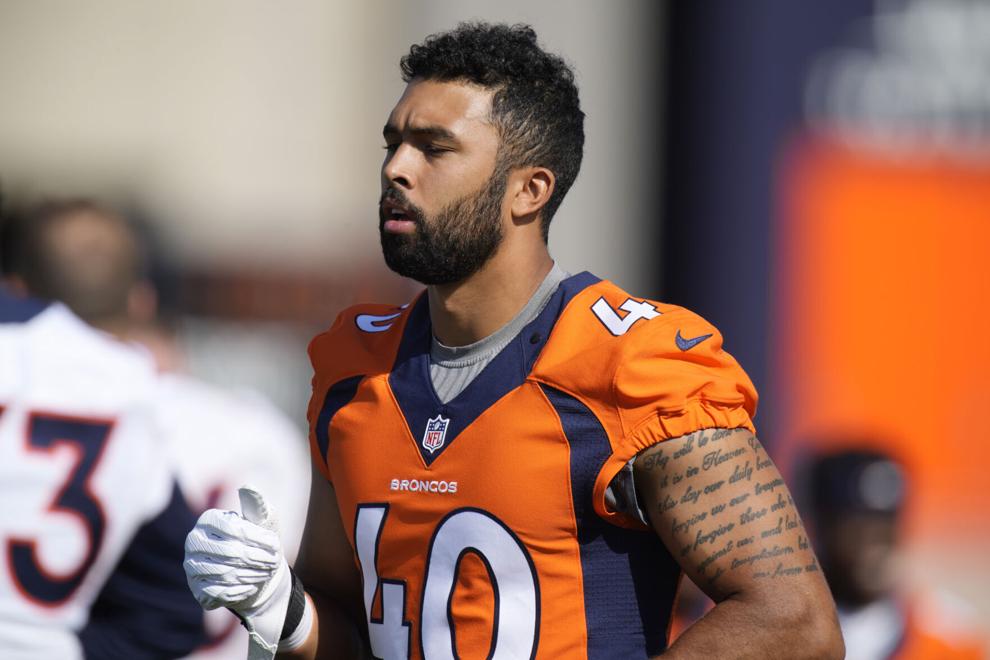 Strnad started at safety as a sophomore and quickly became one of the team's best players at a school that is known for producing top talent, currently featuring several NFL players, including Vikings center Mason Cole and Rams tight end Tyler Higbee. By his senior year, he had turned into a three-star prospect fielding offers from 15 Division I schools.
"When he put the weight on that he needed to put on and still could run and he could cover in space and was physical in the box, that's when I knew he was a Division I type prospect," said Bob Hudson, East Lake's football coach. "Then his football IQ was just skyrocketing and he's always had a great work ethic."
Strnad finished his high school career having only lost two games in three seasons, leading East Lake to back-to-back undefeated regular seasons and two state semi-final appearances. As a captain his senior year, he was a First Team All-Pinellas County selection by The Tampa Tribune and the Tampa Bay Times, totaling 81 tackles, eight pass breakups, three tackles for loss, three sacks and three interceptions.
His college decision was between Central Florida and Wake Forest, inevitably choosing Wake Forest largely for academic reasons — he hopes to one day work on the business side of football, possibly as a general manager. And it paid off for him, becoming a three-year starter and totaling 244 tackles, 22.5 tackles for loss, eight sacks and four interceptions. He also helped Wake Forest to three bowl wins in four years. 
By the end of his college career, it was clear Strnad was going to fulfill his dream of playing professional football, thanks to his knowledge of the game and physical ability to play almost anywhere on the field. 
"His FBI (football intelligence) was really, really strong," said Warren Belin, who recruited Strnad to Wake Forest in 2015 and previously spent time with Carolina Panthers (2011-12) where he coached former NFL linebacker Luke Kuechly. "The thing that I enjoyed the most was getting him in the classroom. When we got to do that for the first time, he was very knowledgeable about what they did at the high school level.
"My thing with Justin was if this young man is hungry, he has the chance to be a bright star for somebody. And we were fortunate enough to get him at Wake Forest."
'He's living the dream'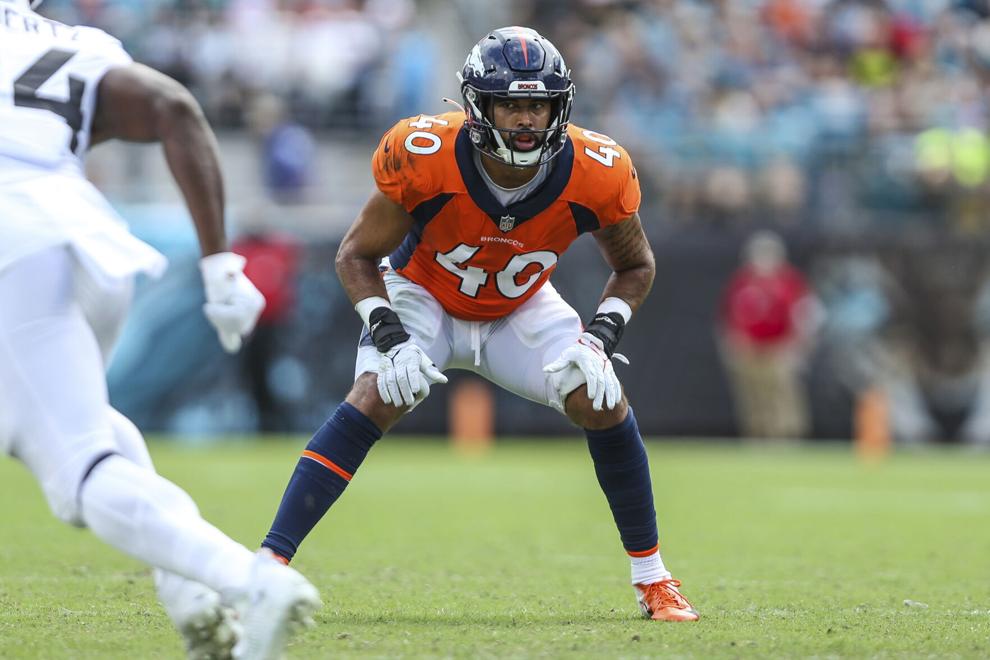 Strnad was a standout during training camp as a rookie. Many within the organization felt as though he had a chance to be a contributor sooner rather than later. 
But unfortunately for Strnad, he dislocated and broke his wrist only a few weeks into camp, sidelining him for the season. 
"He was devastated," Nick said. "We told him, 'tough times don't last, tough people do.' And that sort of became his motivation over the next year."
Fast forward to Week 2 against the Jaguars and Strnad finally got his chance in a game no one expected him to play in, including his 20 family and friends who were in attendance. 
"He came into the game and we were all like, 'Oh my God, is this really happening?'" Nick said. "As soon as he came in, he was already settled in. You could tell from the opening kickoff when he made the tackle, he was ready."
While he had only played in the preseason, Strnad looked calm and poised against the Jaguars — a rare trait for someone who has hardly played in the NFL. He totaled five tackles and only missed one of note, something Fangio said is correctable. And it wasn't more than a couple of hours after the Jaguars game when Strnad and Jewell began watching film together on the plane ride home.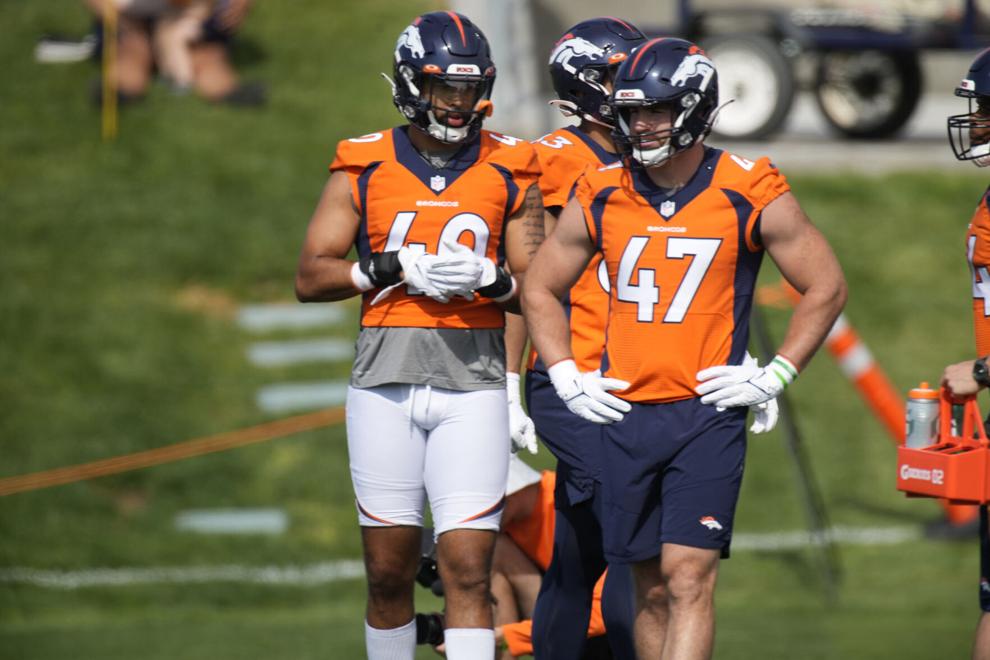 Jewell likely knew his season was finished and that Strnad would be taking his place the rest of the year. The two have become good friends over the last year, with Strnad trying to soak up as much knowledge as possible from Jewell. That relationship will likely prove to be key as Strnad tries to fill Jewell's void in the middle of the defense. 
"It's not ideal how you want an opportunity to come," Strnad said. "In the last couple of months, me and Josey have grown pretty close. He's a great player, great teammate, and really one of the big leaders on our defense, so to lose him is obviously a big loss for this team… He comes to work early, he studies. He's one of the smartest players I've ever been a teammate of. Really just how he comes to work every day and how he prepares."
Throughout the week, his coaches and teammates have shown a lot of faith in Strnad, saying that while Jewell is irreplaceable, Strnad has shown in practice he's more than capable of carrying the torch. 
"I feel pretty comfortable with Justin in there," outside linebacker Von Miller said. "When he came here as a rookie, he was on fire. He was on fire last year during training camp with limited reps and limited experience. He was going crazy."
As for those who have helped him along the way, many will be in attendance Sunday, including his brother and father. For them, Sunday is a dream coming to fruition, remembering the games in the backyard, the Friday night lights and Strnad's constant obsession of following in the steps of football greats like Sean Taylor and Brian Urlacher — two of his favorite players growing up. 
"What I've tried to do as his dad is push him, been there for him, taught him, mentor him, done everything I can for him through high school and college to get him to where he is right now," Shawn said. "And I think he's so prepared that I've told myself now I'm just going to be his dad. ." 
So for the kid who goes by 'garbs' and who had to be convinced to play football in Ms. Heinlein's computer class, Sunday is more than a game. It's an opportunity he's waited for all his life.
And if his journey has taught us anything, it's that he's always ready when his number's called.
"Just from knowing Justin the past 10 years, he's going to do exactly what he says — he's going to do whatever he can to help the team, whether that's being the kicker or the starting middle linebacker," said Jake Hudson, who is Strnad's closest friend. "And Justin is going to do it with every ounce of heart because he loves the game of football. I think fans will be able to see that.
"... He's living the dream and he's going to take full advantage of it."