Fifty-two years separate Bill Parcells and Broncos quarterback Teddy Bridgewater.
Parcells, who turned 80 in August and was born during World War II, has lived through 20 presidential elections. Bridgewater, who will turn 29 on Nov. 10, was born seven days after Bill Clinton defeated George H.W. Bush to become the 42nd president of the United States in 1992, and still has over 20 years before he applies for an AARP membership.
But no matter their age, one thing connects the two: football.
"We just kind of struck up a relationship because, you know, he likes football," Parcells told The Gazette. "And I still like football even if I'm a dinosaur."
Parcells and Bridgewater have had exceedingly different football experiences — Parcells is a two-time Super Bowl champion — with Bridgewater hoping to reinvigorate his career in Denver.
Parcells also amassed 183 victories in his 19 years as an NFL coach and was inducted into the Pro Football Hall of Fame in 2013 — a year before Bridgewater's rookie season. Bridgewater is entering his eighth year in the league, with five teams, been traded three times and suffered a major injury that changed his career.
But it shouldn't be a surprise the two have built a relationship, after Bridgewater's adviser, Abram Elam who played for Parcells in Dallas in 2006, introduced the two when Bridgewater was drafted by Minnesota. In many ways, Bridgewater is the prototypical Parcells quarterback. Since being traded to Denver in April, Bridgewater has shown a selflessness Parcells always searched for in a signal-caller, which is why he often asked his quarterbacks a singular question:
Do you want to be a quarterback, or do you want to be a celebrity?
"There's a lot of attention that's centered on these quarterbacks and some of them quite naturally like the spotlight," Parcells said. "That's all well and good. That goes with the job, but that's not the main thing. The main thing is about winning games. And if he can do that, things are going to go well for you. But if you can't do that, they're not going to go well. I always use the term, if a guy is ready to be a star, well, that means he's ready to get into the spotlight. I'd prefer a guy who just wants to be a quarterback."
Parcells' quarterbacks, most notably Phil Simms, were generally not known for their big-play ability or generational arm talent like many quarterbacks are evaluated for today. He just wanted someone he could count on — an old-school mindset that's similar to Broncos coach Vic Fangio and Bridgewater's previous coaches with whom he experienced the most success, Mike Zimmer in Minnesota and Sean Payton in New Orleans. That's why, despite Bridgewater's disappointing play in Carolina last season, some believe Denver is the right place and right time for Bridgewater and the Broncos. 
And that's likely the main reason why Bridgewater was chosen over last year's starter, 24-year-old Drew Lock, who's known for his big arm and a gunslinger mentality. It's clear he has his teammates' backs, after they voted him team captain, despite only being on the team for five months. The Broncos haven't had a winning quarterback since Peyton Manning retired in 2016, missing the playoffs in the five years since with four straight losing seasons. Bridgewater will be the Broncos' fifth Week 1 starting quarterback in as many years come Sunday, when they open in East Rutherford, New Jersey, vs. the New York Giants.
But for Bridgewater, and the Broncos, this season feels different.
Expectations are high in Denver, with a defense that, on paper, looks like one of the best in the NFL, and an offense that features several young weapons. Many within the organization believe this could be the team that puts the Broncos back where they belong: in the playoffs. And a large part of that potential success will fall on Bridgewater, who throughout his life — from his mom's battle with breast cancer to the horrific injury that nearly ended his career — has risen to the occasion.
"Sometimes words can't describe it," said Bridgewater's mom, Rose Murphy. "Just to see where he's come from and where he is, his resilience and how he keeps going and going. He reminds me of the Energizer Bunny. Because when you know who you are as a person and what it took for you to get to where you are, you never take that for granted. I taught him to never take any of this for granted.
"And so for him to be able to start again and overcome his injuries and overcome all the obstacles in his life — I couldn't ask for anything more to be proud of."
So, to answer Parcells' question, does Bridgewater want to be a celebrity or a quarterback? And more specifically, is he ready to be the latter for the Broncos?
"For me, I want to be a quarterback," Bridgewater said. "I want to be the guy who gets my unit in the end zone, who demands excellence and greatness out of myself but also my teammates. I want to be a student of the game every day. I want to be eager to learn, eager to grow, and it's a unique opportunity to do that here in Denver."
Chapter 1: Adversity and humility.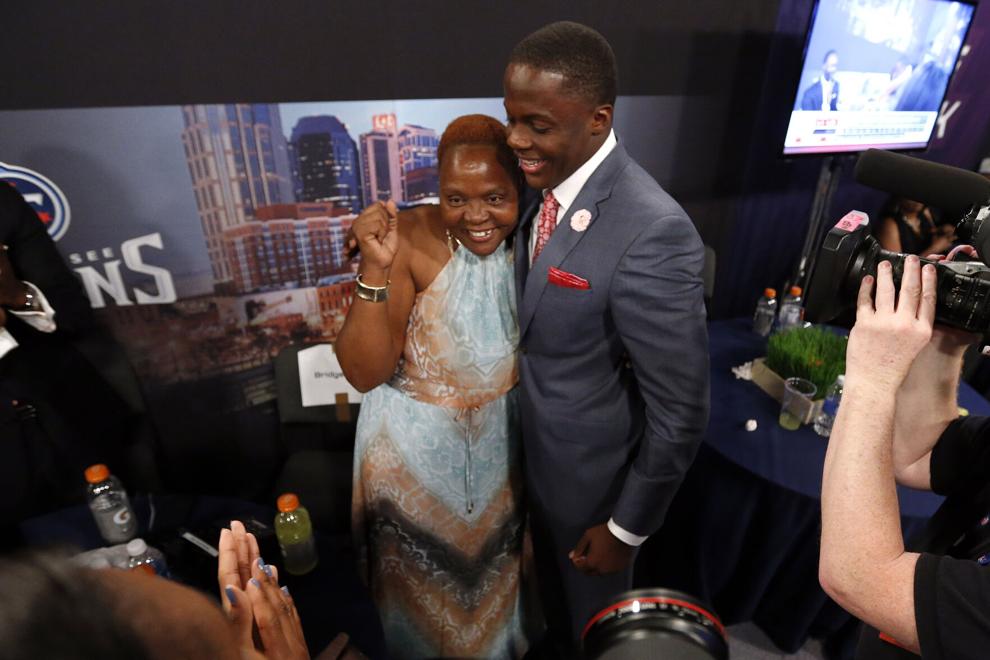 Bridgewater was 14 when his mom was diagnosed with breast cancer.
The mother-son bond between Murphy and Bridgewater has been well documented, with Bridgewater wanting to quit football when Murphy was first diagnosed so he could help take care of her. The connection has followed him throughout his career, as Murphy's fight with cancer inspired him to overcome a dislocated knee and torn ACL in 2016, which nearly necessitated amputation of his left leg.
"He was always a kid who knew how to handle adversity," said Murphy, who raised her four children in Miami. "He had an opportunity to see me sick. His room was right next to mine and he'd always be right there when I'd wake up, laying on the floor next to my bed. Every move I made, he was right there. So for him to watch me go through that, with the chemo and radiation and all that, and how my faith in God got me through it — when it came to his injury, I just let him know everything happens for a reason. Him watching me go through cancer, that's where he got his strength from."
Ask anyone who deeply knows Bridgewater where he gets his humility, and they'll point to Murphy.
"I think all of that came from her and watching her and what she went through and the battles she had to face each and every day," said Charlie Strong, who was Bridgewater's coach at Louisville and is now the inside linebackers coach for the Jacksonville Jaguars. "I can remember when recruiting him, she said to me, 'If he goes to the University of Miami, he will go home every day and check on me and I don't want that to happen. I want him to go somewhere he doesn't have to worry about me. … I want him to become the man he can be.' She never made it about herself, and he's the exact same way. ... The thing he's never done is he's never made an excuse."
Murphy was a single parent raising four kids while working as a transportation supervisor for Miami-Dade County Public Schools. She retired in August, after 32 years, the same week Bridgewater was named the Broncos' starter. She's a woman of strong faith, often quoting Jeremiah 29:11 to her kids:
"For I know the plans I have for you," declares the Lord, "plans to prosper you and not to harm you, plans to give you a hope and a future."
It's that verse that's become her's and Bridgewater's rallying cry when they face adversity, including the most difficult day of his NFL career.
"I read that to him the day he got hurt," Murphy said. "I never saw any fear in him."
Today, Murphy is cancer-free and Bridgewater is as healthy as he's been. Those two experiences changed Bridgewater's life, helping shape him into the man and player he is today. And it's easy to see how Bridgewater has carried those traits his mom instilled in him throughout his career.
"He is the quintessential leader," said Bridgewater's agent, Kennard McGuire. "And I think he got a lot of those leadership qualities from his mom. She's a very spiritual person who has really been the rock in his life, showing him how he can lead others through his actions."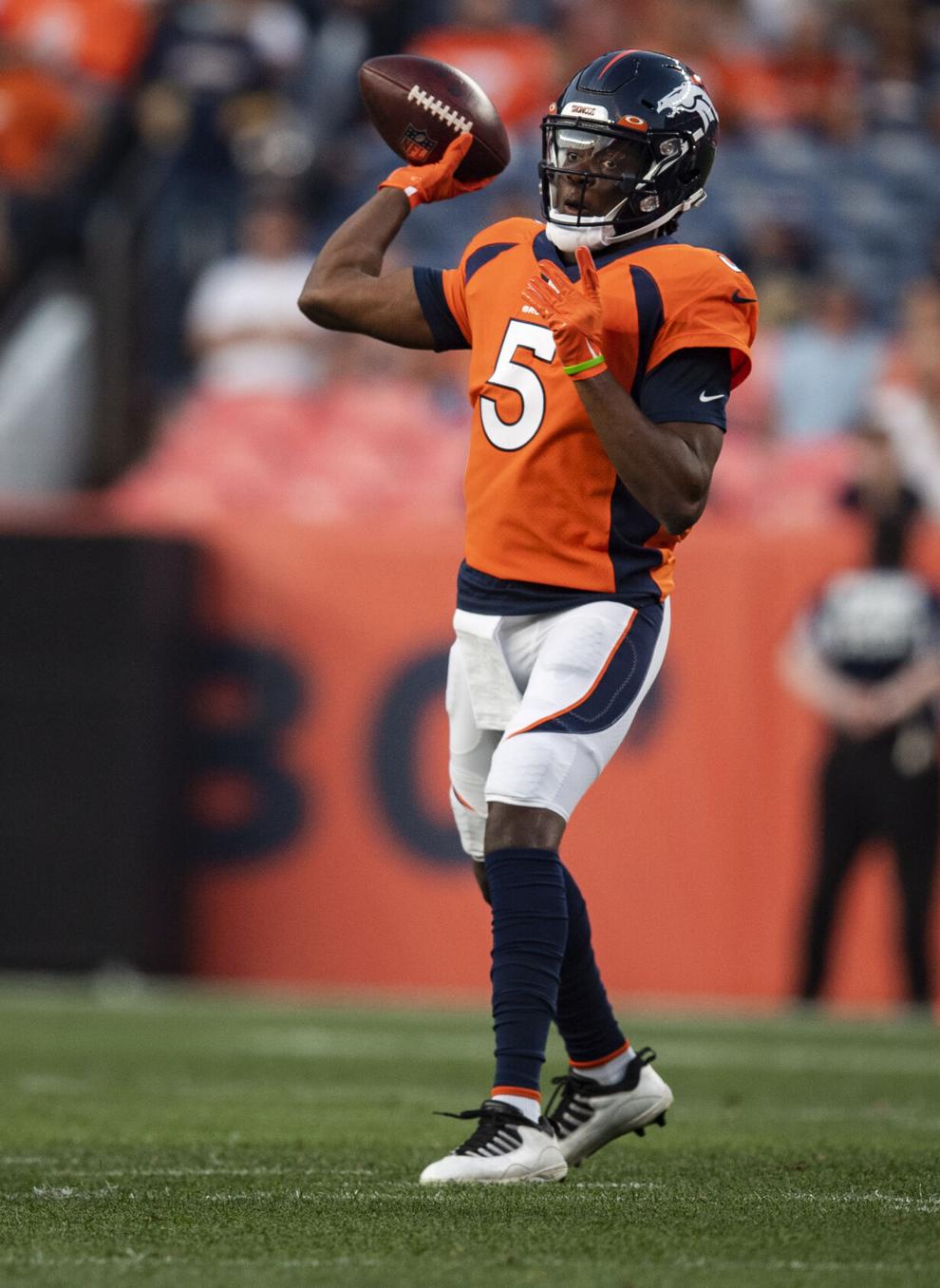 Ask Bridgewater about a play he made, and he'll be quick to talk about the people — the offensive line, the wide receiver, the running back, or the coach — who made that play possible, instead of himself. Throughout his battle with Lock during training camp and the preseason, not once did he have a bad word to say about his competition, wanting instead the best for Lock and his career.
"Hopefully four or five years from now, I'll be turning on the TV watching Drew," Bridgewater said the day he was named the starting quarterback. And it's that sort of mentality that's needed in Denver and specifically in the quarterback room, which previously housed veterans who weren't as willing as Bridgewater to take a young quarterback, like Lock, under their wing.
"I really like the way he goes about it," Lock said. "I know that right as you bring in a quarterback and it becomes a quarterback competition, it's whose chest is puffed out bigger and who can throw it better, who can come out here and practice, but secretly, I was sitting back and learning everything I could from Teddy."
That unique relationship is a product of Bridgewater's mom and the values she taught him. No matter where Bridgewater has been in his career, his mom's life lessons of respect, humility and the value of putting others first, have been at his core.
He wasn't raised to be a celebrity, and his leadership skills have flourished because of it.
"I used to tell him how football is a part of your life, it's not your life," Murphy said. "No matter where you are in life and no matter what you've been through, I always taught him to walk by faith, not by sight. No matter where you're at, you're not stuck. Use your setbacks, your disappointments to find a way to overcome life's roadblocks."
Chapter 2: Becoming dependable.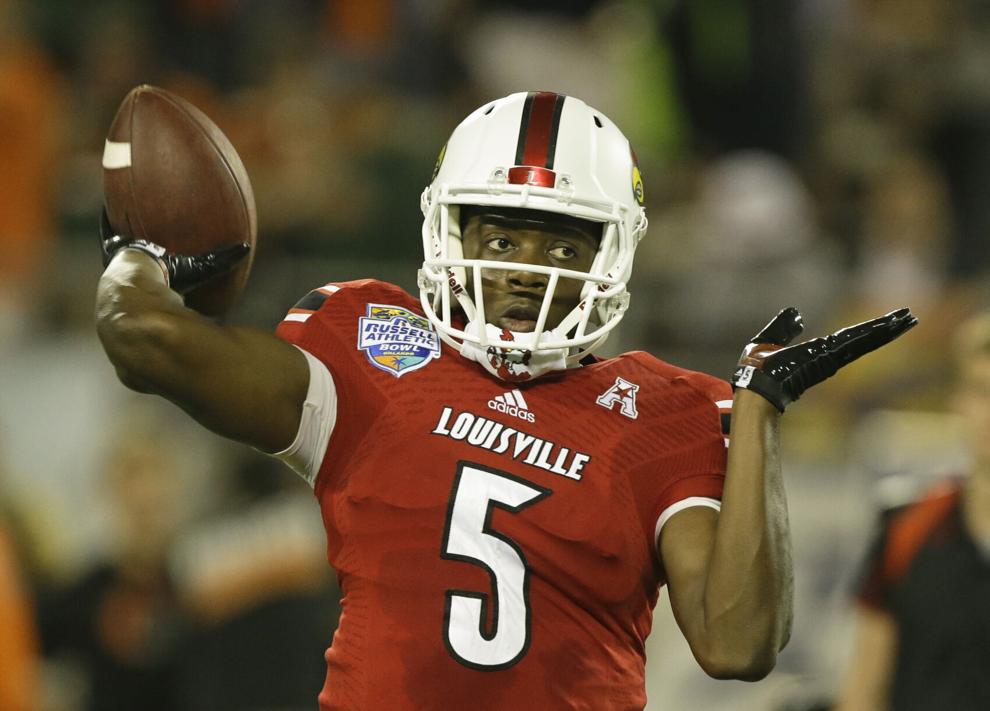 Will Stein's claim to fame at Louisville will always be getting injured in the second quarter of the 2011 Kentucky game. Stein, a junior at the time, was replaced by Bridgewater, then a true freshman, as Louisville went on to win, 24-17.
That game changed their lives forever.
"I got into coaching and Teddy became a first-round draft pick," said Stein, the passing game coordinator and wide receivers coach at the University of Texas at San Antonio. "Him being our quarterback was probably one of the most instrumental things in the development of the University of Louisville athletic program. And it had a lot to do with him and how he handled himself and how he ran the team, how he played on Saturdays."
Before arriving at Louisville, Bridgewater was a standout at Miami Northwestern Senior High School. He started as a sophomore, totaling 6,712 yards and 70 touchdowns through the air and 813 yards and 15 touchdowns on the ground. He was rated as the No. 2 dual-threat quarterback in the country in the 2011 class by Rivals.com.
But Bridgewater wasn't originally planning to attend Louisville. He had committed to Miami in June 2010 and at one point nearly decided to attend LSU, where the Tigers likely intended to play him at wide receiver. That was until he met Strong, who's become one of his most trusted confidants.
"I remember going to watch him practice and there were no coaches on the field and Teddy was the one who was running practice," Strong said. "I could see then that he's not a leader who's real vocal, but you could see and feel his whole presence. He was such a hard worker. You knew he was a student of the game and you knew he understood the game. He was a guy who was always willing and open to learn more."
As an early enrollee at Louisville in the spring before his freshman season, it was clear Bridgewater was more than ready to play. Stein said the only reason he originally won the starting job was because he "had been there and knew the offense better." But Bridgewater's accuracy and ability to "see the field better than anyone else" was apparent when he replaced Stein in the third week of the 2011 season.
"The biggest thing for him was his composure," Strong said. "There was never a point where he wasn't composed. He came into that game against Kentucky and said, 'I'm ready, coach. You don't have to worry about me.'"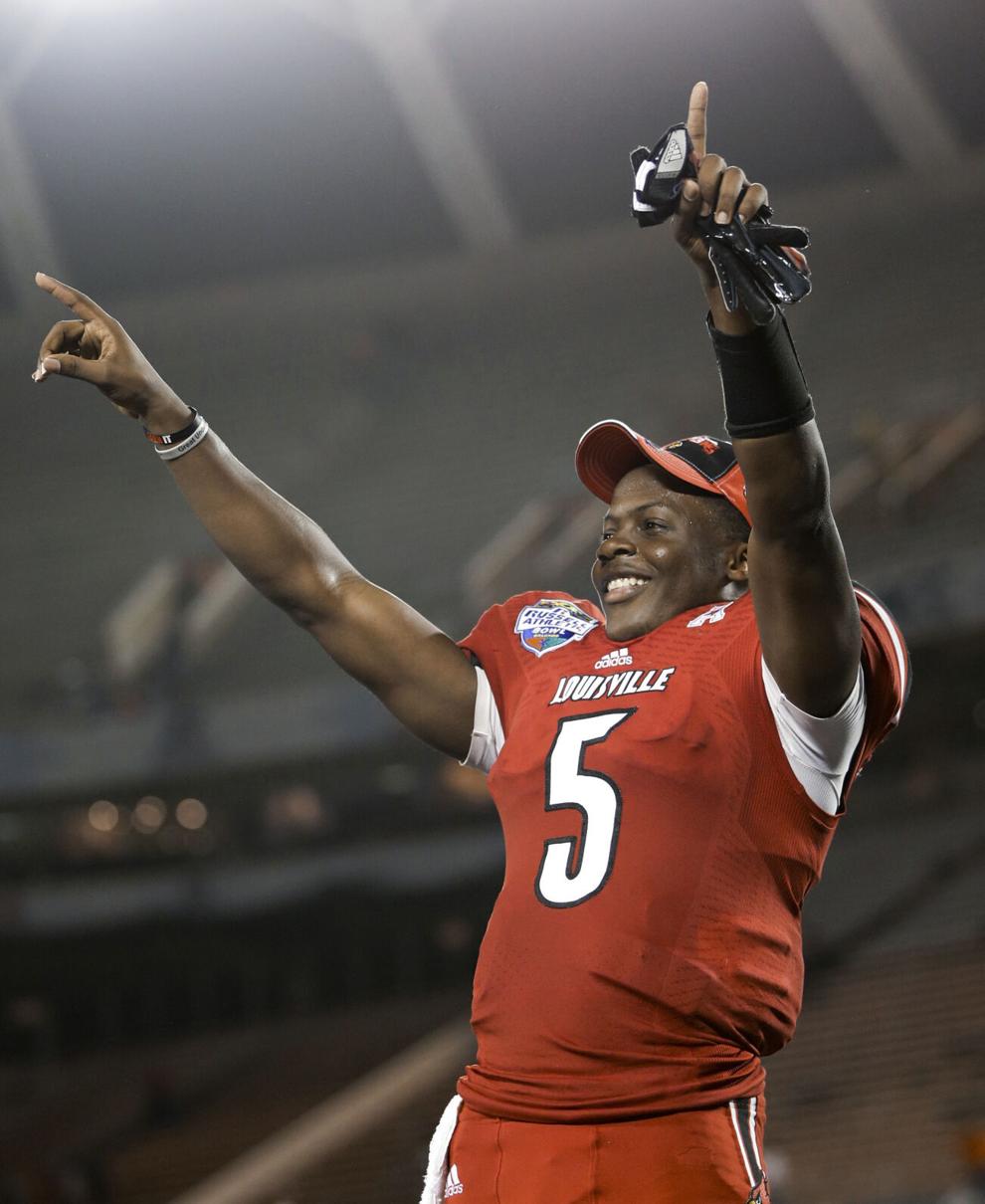 Bridgewater improved each year, throwing for 2,129 yards, 14 touchdowns and 12 interceptions as a freshman; 3,718 yards, 27 touchdowns and eight interceptions as a sophomore; and 3,970 yards, 31 touchdowns and four interceptions as a junior.
In his three seasons, he totaled 9,817 yards, 72 touchdowns and only 24 interceptions, helping Louisville to a Big East Championship and a Sugar Bowl win over Florida in 2012. He finished third in school history in passing yards and touchdowns, ahead of now-Ravens quarterback Lamar Jackson.
"He had an ability to make plays as a passer, as a runner, as a guy outside the offense with his instinctual playmaking abilities," said Shawn Watson, who was Bridgewater's offensive coordinator at Louisville. "The thing that impressed me most about him, talking about the football piece of it, is he could take the chalkboard, take the installation, the explanation right to the field and execute it. He conceptually understands and has a great feel for the passing game."
Bridgewater showed throughout his college career and in the NFL, he possesses some of the best pocket presence and awareness in the league. Fangio compared it to that of seven-time Super Bowl winner and Tampa Bay Buccaneers quarterback Tom Brady. That's why Bridgewater was selected 32nd overall in the 2014 draft. The only quarterbacks drafted ahead of him were Blake Bortles and Johnny Manziel, who are both not on an NFL roster. And he couldn't have landed in a better situation than with Zimmer and the Vikings.
Bridgewater became close with Zimmer during his time in Minnesota. He led the Vikings to an NFC North title and playoff berth in 2015 in which he made his only Pro Bowl, and in 30 games with the Vikings, Bridgewater threw for 6,150 yards, 28 touchdowns and 22 interceptions.
"Teddy was a good kid when he was here. Everybody liked him," Zimmer said at the Broncos-Vikings joint practices in August. "He understands situational football really well. I think he does a really good job of getting the ball out when he needs to, when he sees the pressure. He's got a quick release. And he's probably moving in the pocket even better now, I think. … He's always been a real steady kid that doesn't get flustered."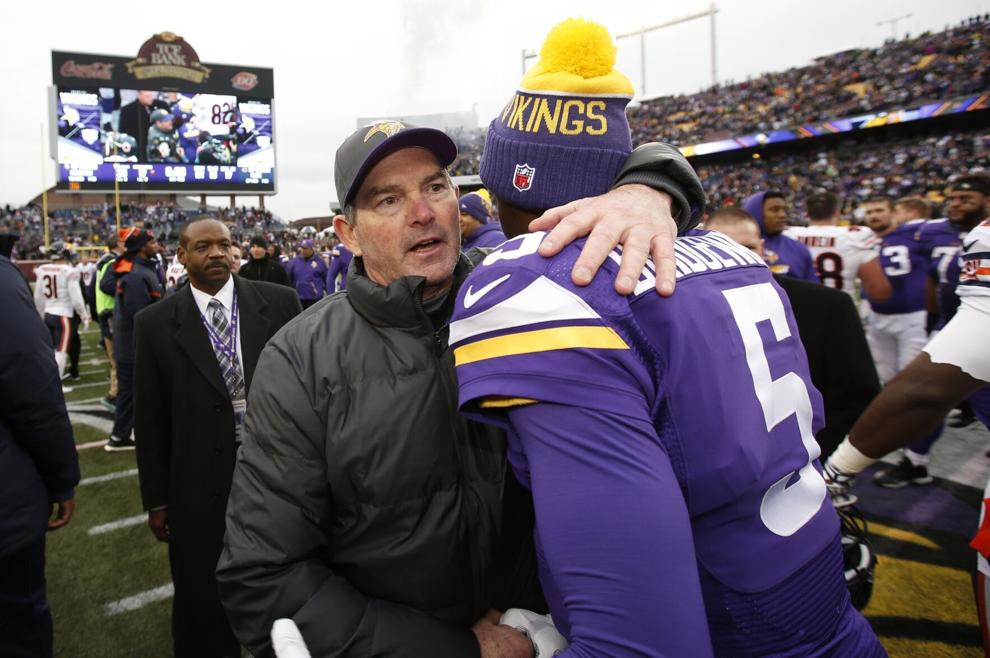 Bridgewater has been nicknamed "steady Teddy" throughout his career, as he rarely makes mistakes. He's been called "check-down Teddy" as fans and media often criticize his ability to make the "big play." But outside his inner circle, he isn't fazed by the opinions, the name-calling, or the spotlight that has blinded celebrities masquerading as quarterbacks.
And that's why Bridgewater has been able to connect with coaches like Zimmer and Parcells. He reminds Parcells of some of his former quarterbacks, mostly Jeff Rutledge, who was a backup on the Giants from 1983-89. Parcells called Rutledge "the fireman" because the career backup always put out fires on the field.
"For Teddy to have Bill in his corner is awesome. I'm sure he's learned a lot from Bill," said Rutledge, who played 13 years in the NFL. "Bill always knew with me I would be ready when called on and I think that's the way Teddy is. I don't know a lot about Teddy, but I think there are a lot of similarities there, in terms of being dependable. Forget the stats, it's about winning ballgames."
Before playing in Carolina, Bridgewater did exactly that. He was 22-12 as a starter, including going 5-0 in 2019 for the Saints, filling in for injured Drew Brees. With the Panthers, he was 4-11.
The reasoning is somewhat up for debate, whether it was a roster issue, Bridgewater's knee injury in Week 10, or poor decisions on his part. But Bridgewater's trend in his career has been this: When on a team with a playoff-caliber roster and an experienced coach, he's found success. And many in Bridgewater's circle believe he can replicate that in Denver.
"I don't have a crystal ball and I don't know the Broncos team very well. So, I can't tell you what to expect for the season," Parcells said. "I can tell you that you can expect consistency and that the Broncos have a player that's committed to doing things to help the team win. He's not a selfish player, he's a team player first and I think that's what every team needs."
Chapter 3: An opportunity to lead.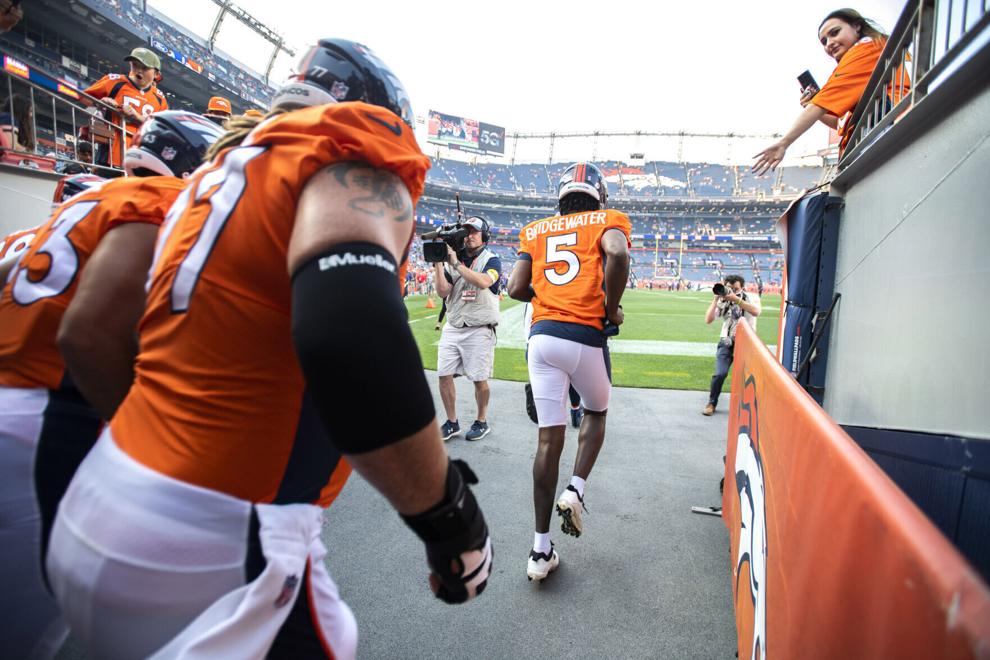 Bridgewater's time in Carolina appeared to be waning when the 2020 season ended.
Coming off a season in which he threw 15 touchdowns and 11 interceptions, while also fumbling six times, the Panthers appeared ready to move on.
"Just in general, I think you want someone who's elitely intelligent. I think you want someone who's a tremendous leader," Panthers coach Matt Rhule said Jan. 27, according to the Charlotte Observer. "I think you want someone who's accurate. I think you want someone who has arm talent to make all the throws. And I think you want someone who has a history of making plays in crucial situations, that's just very urgent."
On April 5, the Panthers traded for 24-year-old Sam Darnold from the Jets, effectively putting Bridgewater on the market. Besides the Broncos, four teams had serious interest in Bridgewater, sources said.
But Bridgewater, who had the final say in where he wanted to be traded, chose the Broncos. He felt, of the teams interested, the Broncos would give the best opportunity to win, with a young offensive roster and a talented defense. But there was also comfort with new general manager George Paton, who played a part in drafting him in 2014 in the Vikings' front office. And there was a familiarity with offensive coordinator Pat Shurmur, who arrived in Minnesota the season of Bridgewater's injury and is in his second year with the Broncos. There was also Fangio, who has many of the characteristics of Bridgewater's fondest coaches — Strong, Zimmer and Payton.
"I like that coach Fangio, he's straightforward. He's a straight shooter," Bridgewater said. "You can't have pride or ego when it comes to coach Fangio. I like the fact that he wants this team to be a tough football team. We grind. It can be days where we take it easy, but we fight through it. All that's doing is creating an identity for this team, creating some character and a mindset for this team."
The feeling has become mutual, with Fangio saying, "We're a lot alike in some ways. He's fun to be around and enjoyable. I enjoy our conversations, and I enjoy the person." And there are few in the Broncos locker room who don't enjoy the person Bridgewater is.
In his five months in Denver, it's clear he's well-received by his teammates and has taken on an important leadership role. That's not to say Lock wasn't or still isn't a leader, but there's something to be said for Bridgewater's experience and veteran leadership in a young locker room.
"He's got that quiet confidence," said Paton, who was hired in January from the Vikings. "He's cool, and I think he's got that 'it'. He doesn't have to try to be a leader, but people gravitate to him. I mean we all do — I gravitate to him. You like having him around and you see him in the huddle. We're young on offense. We're still young. (Jerry) Jeudy is 22, (KJ) Hamler is 22, a second-year center (Lloyd Cushenberry). For someone like Teddy, I think he can stabilize this offense because I think this offense is really talented."
Bridgewater describes his leadership style as "not a screamer." He's not a "rah-rah" guy who is going to give an inspirational speech, but instead someone who connects with each of his teammates off the field — he's already started taking the offensive line out to steak dinners.
And that's not new. Bridgewater has been that way his entire career, from Miami Northwestern to Louisville to every team he's played for in the NFL.
"He's a guy that really owns a locker room when he steps in it, with his personality, with his ability to connect with all different types of people from all different backgrounds," Stein said. "He's the ultimate team player. And his role, he's been a starter, he's been a backup, he's been injured, he's been traded. It's just a credit to him and who he is as a person. He's been able to handle it. And people love him wherever he goes, it doesn't matter. He's just a lovable person.
"Don't mistake that for not being a competitor, he's the ultimate competitor. He's fierce on the field, he's smart, he's got all the intangibles and guys really rally behind him. Every team I've been on, there's no one like Teddy in terms of a single person who the team rallies around."
By all accounts, Bridgewater is a celebrity. He's just an unassuming one, leading behind the scenes where he's beloved by his teammates and by those who have guided him on his football journey.
The Broncos hope Bridgewater can continue to be that leader and competitor in 2021. Beyond that? It's unknown what the Broncos' plans are after this season.
Bridgewater, who has never concerned himself too much with the future, instead focusing on the present, has his sights on not only reviving his career and proving he's a franchise quarterback but making the Broncos relevant again.
"That's the thing that I love about football, it's the ultimate team sport where you put aside all your personal goals and your egos and you come together for one common goal — that's to win," Bridgewater said. "You can sense that around here. Everyone wants to win. Everyone has that mindset of whatever it takes. It's not about me, it's not about the next guy. It's about the team, and I love being a part of that."
As for any advice, Parcells offered the simplest words of encouragement.
"Get your ass in gear," Parcells said. "It's go time."