A statue of John Elway, the Duke of Denver, should be considered as a replacement for Blucifer, the demonic horse, at the entrance to Denver International Airport.
The Magnificent 7 signifies John's retired jersey number and the seven Super Bowls he principally has been responsible for as a Hall of Fame quarterback and the Broncos' boss.
Elway is the most prominent figure in Denver professional sports history. And if he hadn't rejected a request from a political party many years ago, he likely would have become Gov. John Elway.
RELATED:
Phillip Lindsay placed on IR, ending season with Broncos
Broncos-Chargers trivia: Test your knowledge
Klee with Three: If only Colorado politicians could follow one Bronco's lead
He also could have been a minority partner of the Broncos' franchise at two junctures and eventually might have assumed control as majority owner.
The 60-year-old Duke of Denver, who first came here in 1983, has spent his adult life in Colorado since as an athlete and a highly successful car dealer. The stadium @Mile High is the House Elway Built, both because of his prowess at the original stadium and because he was the main public proponent for the new stadium construction after retiring as a back-to-back world champion. He has been an ambassador to the world from This Old Cowtown.
John deserves being permanently honored with a sizable sculpture at the airport, outside the stadium or downtown on the 16th Street Mall.
He has done it all.
Except find a young quarterback in his image — someone special who would serve the Broncos for 16 seasons (as John did) or 10 or even seven, a span nobody other than Elway has accomplished during the seven decades of the football franchise.
It's not as if Elway hasn't tried.
During the Elway Reign of 10 seasons, from the beginning of January 2011 to the end of December 2020, 12 quarterbacks — and a running back — have been starters. Elway has drafted six, traded for two veteran quarterbacks, signed four others who were veteran free agents and brought in two more undrafted free agents. Elway inherited three quarterbacks.
Everybody from Kyle Orton to Drew Lock, Peyton to Paxton, and Tim Tebow have passed through Denver.
Lock is the latest.
If he falls flat, John fails and is finished.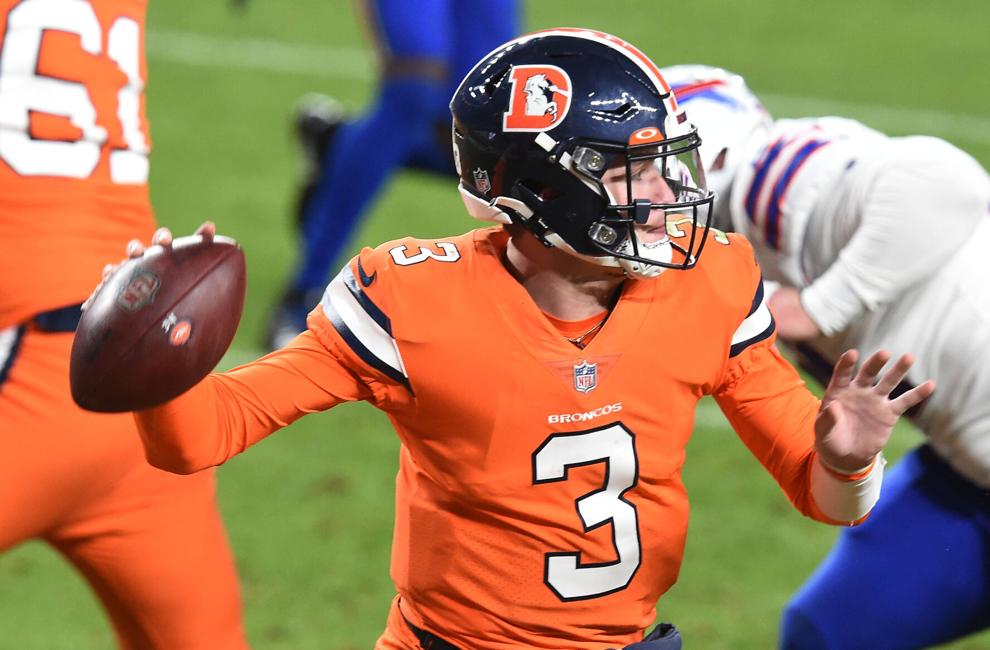 Elway's five-year contract as president of football operations runs through the end of 2021.
John was sacked a record 555 times in the regular season and postseason during his playing career.
He ultimately could be sacked once during his executive career. Or he may retire again.
When Pat Bowlen discussed the details of Elway's return to the Broncos' football family, after a decade of exile, John was given a choice — an executive job or a modest piece of the franchise. Bowlen said Elway couldn't have both. It was the second time Bowlen had offered Elway a percentage. If Elway had accepted either of those agreements, his share, 5 percent, would now be valued at approximately $160 million.
Elway preferred to be vice president of football operations and select coaches and players.
It was a risky venture and adventure for each man.
The partnership paid off exceptionally from 2011-15. The Broncos compiled a 54-26 overall record and finished first in the AFC West five consecutive seasons, won six of 10 postseason games, played in the Super Bowl twice and prevailed as champions in 50.
From 2016-2020 the Broncos have not won a division or advanced to the playoffs, and will have four losing seasons (9-7 in '16). The regular-season record, with two games to go in '20, is 32-45.
Three of John's four chosen coaches have been defensive specialists. The fourth, Gary Kubiak, won the Super Bowl with a wounded Peyton Manning in his final season and the Broncos' most superior defense ever.
In the Elway Era, 11 different defensive players and eight from the offense have been selected to the Pro Bowl.
Only one was a quarterback — Manning.
Elway has been extremely interested in college quarterbacks Brock Osweiler, Zac Dysert, Dak Prescott, Josh Allen, Patrick Mahomes, Trevor Siemian, Paxton Lynch, Chad Kelly, Justin Herbert and Lock. The Broncos met with Mahomes at the NFL Combine, and Elway personally scouted games of Lock, Osweiler, Allen and Herbert (when the quarterback was a junior). The Broncos coached Allen in the Senior Bowl, and Prescott and Lynch were invited to the team's headquarters for official visits.
Lock is the last quarterback standing for Elway.
The two will go on together or out together.