DENVER — Santiago's or Alfonso's.
Salida or Buena Vista. Elitch's or Lakeside. Overland or Patty Jewett. Wade or float.
Choosing between Colorado icons is a dicey proposition. So I should be crowdsourcing you fine people: Would you rather the next ownership group of the Broncos include John or Peyton?
Because this could get uncomfortable. How do you choose a favorite between Colorado GOATs?
Welp, here goes: the Broncos are probably going up for sale soon, and, according to The Gazette's Woody Paige, John Elway and Peyton Manning will be involved in competing bids.
Bummer. Combining forces sure worked well the last time.
Next Denver Broncos owners
There are four other ownership groups ready to make a bid, Woody reported. So Elway and Manning could be out of our Broncos lives forever. That's kind of unsettling. That's sad.
For the record, if it's a 2-minute drill, I take Elway. If it's a 2-minute commercial, I take Manning. If it's an offense with Demaryius Thomas, Wes Welker and good Julius Thomas, I take Manning. If it's an offense with one Pro Bowler, like the 1986 Broncos with Sammy Winder, I take Elway.
If it's a partial owner, I take...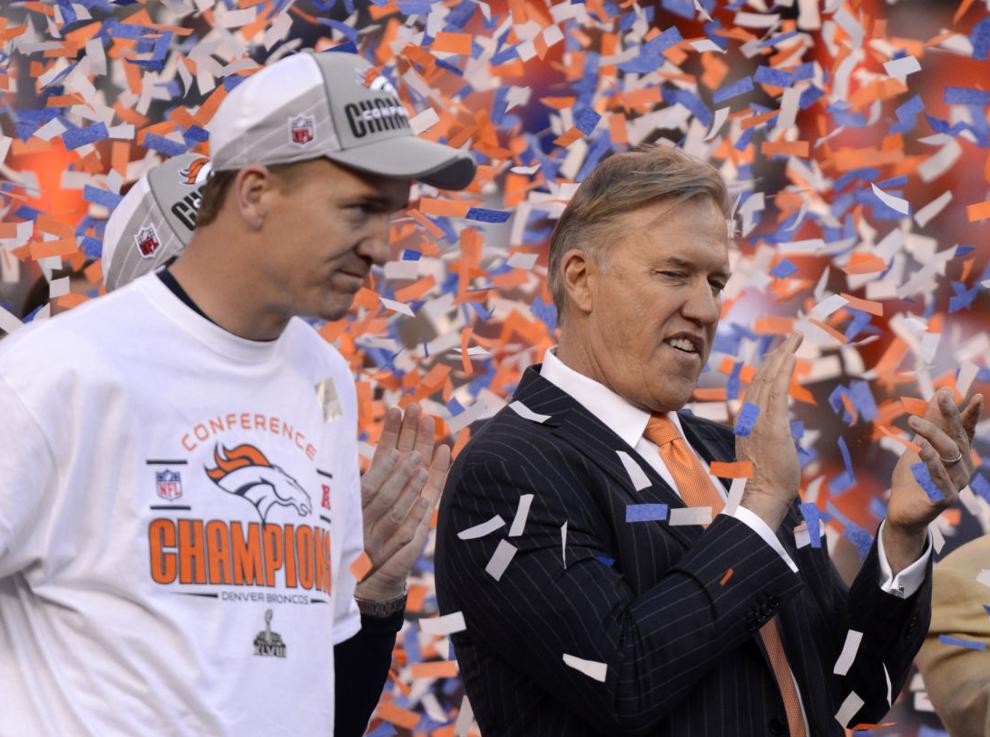 Business sense
Couple weeks before Colorado legalized marijuana, Manning purchased a stash of Papa John's franchises. Name a smarter business move in state history. His side hustles included Buick, Nationwide, Gatorade, Nike, DirecTV and some others. You might remember Manning took a pay cut from the Broncos before the 2015 season, but he earned back the $4 million by winning the AFC championship and Super Bowl 50. Talk about betting on yourself. Or your defense. Either way.
Elway's business endeavors reportedly include but are not limited to the car dealerships he sold and restaurants he still owns. Two years ago Elway did an interview with Chase, the bank, with a slice of advice for businesspeople: "Number one, know what you're getting into."
These two ex-quarterbacks clearly are risk-taking go-getters on the business front. They know what they're getting into. But I can't ignore Elway passing on a 20 percent ownership stake in the Broncos in 1998. Twenty percent of the Broncos now could be around $750 million.
Look at me, a lowly sportswriter showing a man worth $150 million how to do business. Next thing you know somebody's going to tell tennis superstar Novak Djokovic he's unhealthy.
Advantage: Manning
Talent evaluation
Come on, you think either of these guys is going to be that close to an NFL roster and not desire a say? I guess it's possible with Elway, who got his fill in 10 seasons as the general manager here, though now-GM George Paton still pledges to use Elway as "a resource." Elway's team-building must be broken into two eras: the PFM era, and Whatever You Call This. The PFM era went 50-14 with two Super Bowls over four seasons. (And no, that wasn't all PFM. The team that won Super Bowl 50 won Super Bowl 50 with a defense built by Elway, Matt Russell and that crew.) The Whatever You Call This era is 39-58 over six seasons. This era's been awful.
How is Manning as a talent evaluator? Who knows? Between Marvin Harrison and Demaryius Thomas, he should know a good receiver from a bad one. Same for offensive lineman after Jeff Saturday and Ryan Clady. Same for pass-rushers after he was sacked 343 times, and for defensive backs after 276 interceptions. His keen eye is presumed, but do we truly know?
The tiebreaker: Arch Manning. The prodigal quarterback prospect is an uncommitted junior in high school. After he plays three seasons for the CU Buffs, Peyton's nephew enters the NFL draft. Bill Belichick's retired by then, so the Patriots own the No. 1 pick, and there's no way a Manning plays for the Pats. Arch mimics Uncle Eli, refuses to play for the Pats, and Peyton moves heaven and earth to get the Broncos up to No. 4. Boom, Denver has its quarterback.
Advantage: Manning
Cleaning up a mess
Because that's what the Broncos have on their hands. No coach, no quarterback, no owner — for now. Manning's more about preventing a mess. Shoot, look how Peyton handled his son's 5-on-5 flag football team: he limited the roster to five players. "That way I don't have to deal with any complaining parents," he told the Indy Star. Going back a few years, The Athletic reported Peyton even scripted his goodbye press conference in Indianapolis — for him and the team owner, Jim Irsay. Manning doesn't show up with a mop. He expects it's already clean. The Broncos were his first visit during free agency. Will they be his first dive into NFL ownership?
Surveying my degenerate friends, Manning is the preferred choice as Broncos part-owner.
But Elway thrived in messy. He had 47 fourth-quarterback comebacks. (A personal favorite was the time he threw five interceptions and still beat the Chiefs. Hmmm. Maybe that's how the Broncos stop their current streak.) The same was true during his GM days. Seeing the decline in Manning, Elway responded with the "No Fly Zone" and all its mean buddies. Boom, Super Bowl 50.
Advantage: Elway
This all seems fact-checker proof. Right? So who should be the next owner — John or Peyton?
One second, let me finish this Santiago's.